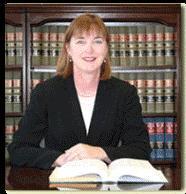 Mary A. Throne, Of Counsel
mthrone@thronelaw.com
Cheyenne Office
Mary A. Throne moved to Cheyenne in 1992 to work as an Assistant Attorney General, representing the Department of Environmental Quality, Air Quality Division. Shortly after coming to Cheyenne, Mary met her husband, Kevin Boyce, a geologist with the Wyoming Water Development Commission. They were married in 1994 and have three sons, Michael, 16, Tarver, 14 and Patrick, 11.
From 1992-99, Mary served in the Attorney General's Office. One of her primary duties was to enforce Wyoming's air quality laws. In addition, she assisted with the development and passage of various pieces of legislation under the Environmental Quality Act, including Wyoming's Voluntary Remediation Program. In 1999, she left the Attorney General's Office and went into private practice with the law firm of Hickey & Mackey, now Hickey & Evans, LLP. Mary continues to emphasize environmental law in private practice and has also lobbied at the legislature. Mary has assisted a variety of clients with environmental issues. She has represented a ranching couple from Platte County in a lawsuit complaining about odors from a hog factory farm and a group of citizens in Rawlins opposed to a crematory in their neighborhood. When time allows, Mary writes articles and speaks extensively on environmental law issues.
Mary was born and raised in Campbell County, growing up on a ranch on Wild Horse Creek. After graduating from Campbell County High School in 1978, Mary attended Princeton University, earning a history degree in 1982. Shortly after graduation, Mary immersed herself in Democratic politics and traveled to Idaho to work for the LaRocco for Congress campaign. Following a disappointing defeat, Mary decided to become a volunteer teacher in Thailand for the Presbyterian Church. She spent one year in Bangkok and one year in a rural area teaching English in K-8 schools and took every opportunity to a travel. Mary returned to the United States in 1985 and attended Columbia Law School, obtaining her degree in 1988. Following a federal clerkship and time off to travel around the world, Mary went to work at the law firm of Davis, Graham and Stubbs in Denver—the first time she gave up her Wyoming residency. After two years in Denver, the pull of Wyoming was too strong and she returned home.
Family life demands most of Mary's non-work time. Still, since moving to Cheyenne, Mary has been active in the Presbyterian Church, serving as an Elder, a Deacon and teaching Children's Church. Mary is a member of various professional organizations, has been a Laramie County Democratic Precinct Committeewoman, is a member of Rotary, volunteers in her sons' school and is a graduate of Leadership Wyoming, Class of 2002. Mary's husband, Kevin, is an avid hunter, fisherman, and skier and is introducing the boys to his favorite activities. Mary continues to love to travel and was part of a legal delegation to South Africa in 2004.
Bar Admissions
Colorado, 1990
Wyoming, 1992
Education
Columbia Law School, New York, New York
Princeton University, Princeton, New Jersey

B.A. – 1982
Major: History
Published Works
Pension Awards in Divorce and Bankruptcy", 88 Col.L.Rev. 198, 1988
"A Guide to Air Quality Operating Permits in Wyoming", XXXI Land and Water L. Rev., 713, 1996
"Privilege and the Environmental Consultant's Report", Legal Guide to Working with Environmental Consultants, 67 (David S. Machlowitz ed.), 1992
"Visibility: A Critique of the National Program; A Review of the Impacts in Southwest Wyoming", (Co-Author), XXXIII Land & Water L.Rev. 3, 1998
"Wyoming," Brownfields, 2nd Edition (Todd S. Davis ed.), 2001
"Air Quality Issue in Coalbed Methane Development", 4 Wyo. L. Rev. 643, 2004
Honors and Awards
Harlan Fiske Stone Scholar
Member, Columbia Law Review, Staff & Board of Editors
Professional Associations and Memberships
Wyoming House of Representatives, 2006 – Present
Wyoming State Bar, Member, 1992 – Present
Laramie County Bar Assn., Member
American Bar Assn., Member
Small Business Compliance Advisory Panel, Wyoming DEQ
Past Employment Positions
State of Wyoming, Assistant Attorney General, 1992 – 1999
Davis, Graham & Stubbs, Denver, CO, Associate, 1990 – 1992
Hon. Reena Raggi (E.D.N.Y.), Law Clerk, 1988 – 1989